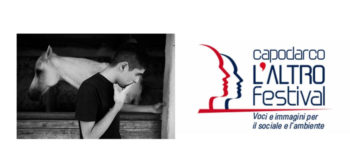 The Documentary of the photographer Salvatore Esposito has been selected as a finalist for the XII Edition of the Anello Debole Award of the Capodarco Film Festival in the Short Films category from Reality.
The weak link 2018, here are the 83 videos and audio selected short films
Online full versions or trailers of works that access the second phase. Now the word to the jury of quality for the choice of the finalists. Award ceremony on June 22nd during the Capodarco L'Altro Festival.
There are 83 works selected for the second phase of the Weak 2018 award: it consists of 73 videos and 10 audio short films chosen from 173 works from 15 countries around the world. From today they are all available online, in full version or with trailers, divided into the four categories of the Award. In detail it is about 10 Audio short films; 31 Short films of reality; 31 fiction shorts; 11 Cortissimi.
The selection was conducted by a Commission formed by the Community of Capodarco di Fermo. Very wide variety of topics covered. The presence of works on immigration remains central: from sea rescues to reception, from citizenship to trafficking in human beings, to "forgotten" international crises. But there are also disabilities, environmental protection, poverty, prison, mental illness, eating disorders, racism, gender identity, violence against women etc.
All the material is now being examined by the jury of quality, presided over by Giancarlo Santalmassi, who will choose the finalist works that will participate in the Capodarco L'Altro Festival (19-24 June).
It is already possible to register for the popular jury. You can sign up now to the popular jury of the award. Just go to the relevant section on the website of the Capodarco L'Altro Festival, fill in and send the form by e-mail or fax. The popular jurors have the task of evaluating the short films finalists during the Festival. Their vote, weighted with that of the quality jury, decrees the winning works.
Special prizes. In addition to the "ordinary" prizes, two special awards will be added in the present edition: the best "web-doc", chosen by the jury both on the basis of external reports and on their own researches, and the "Corto giovani" prize collaboration with the "Coop for words" literary prize of Coop Adriatica 3.0.
Watch the Trailer:
http://capodarcolaltrofestival.it/edizione-2018/cortometraggi-realta/la-forza-del-silenzio.aspx